A 2MW photovoltaic solar system in Germany is using a string of 32 inverters from Delta Electronics in a hybrid power-sharing scheme
GreenRock Energy has used inverters from Delta Electronics for a 2MWp commercial solar rooftop project in Thuringia, Germany. It also uses a lithium iron phosphate battery storage system with a capacity of 242kWh. 
GreenRock installed the 2MW of photovoltaic (PV) solar capacity on the roofs of three agricultural buildings at a pig farm in Remda, between Jena and Weimar in Thuringia, Germany. From the end of 2019, two of the PV plants will feed electricity back into the grid at a fixed contractual price and the third plant will be used by the farmer. The size of the plants, 750 kWp x 2 for the grid feed-in and 500 kWp for the self-consumption, was deliberately chosen.
6,000 square metres of roof surface had to be completely renovated and freed of asbestos so that the structural insulated panels could be installed to hold the solar PV system. The three buildings were equipped with 7,500 polycrystalline solar modules, which came directly from the company's subsidiary Greenrock Trina. Each of the Trina Honey modules supplies 275W from 60 cells. The assembly system for the solar modules consists of trapezoidal sheets and a substructure of 180mm aluminium rails supplied by the German company, Saytec.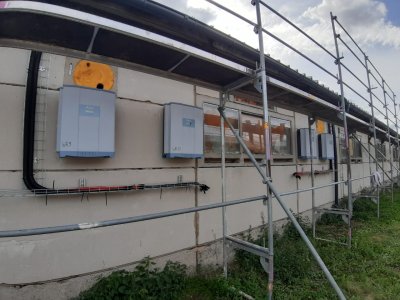 The installation also includes 32 string inverters from Delta Electronics. These inverters had three different power classes to take the special features of each roof into account and make optimum use of the roof surface.
The M88H inverter was specially developed for use in large solar parks and is available in two connection variants. It has a maximum efficiency of 98.5 per cent and weighs 84kg. The terminal box with AC and DC surge arresters, terminals and DC disconnectors is already integrated into the device and can easily be disconnected from the power module. When the power module is replaced, the junction box with the entire cabling remains at the installation site, saving time and reducing maintenance and repair costs.
"The M88H has one of the highest