---
The concept is simple. The battery lets any existing smoke alarm connect to a home WiFi network so it can alert the owner's smartphone if the alarm goes off. Its smart power management will also eliminate 3am wake up calls from an alarm with a dying battery.
On November 11, Peeters will test out his Roost smart battery with a Kickstarter campaign. It will sell for $100 four of the custom lithium ion batteries that sport a microcontroller and WiFi.
If consumers snap up the batteries, Peeters aims to parley their support into a round of venture capital to build out the startup. He already snagged $1 million in seed funds from the group that owns China's Lenovo and DCM, a Silicon Valley VC firm.
Peeters's first big outing was with Ozmo Devcies, a startup launched in 2008 aiming at low power WiFi chips. Atmel acquired the company in late 2012, making Peeters part of the team behind sorting out its strategy for the Internet of Things.
Everyone was looking at smart devices in the home and wondering what was the killer app. I realized it was the wrong question. The question is where is there data in the home that if I make it available on the smartphone it becomes valuable information to a consumer. That's when the smoke alarm came up.
Peeters started brainstorming the idea with James Blackwell, his former partner at Ozmo who had already left Atmel. Soon Peeters left Atmel two and the duo came up with the idea for the smart battery.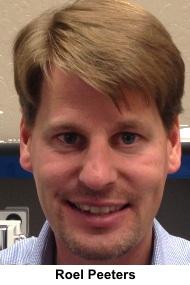 Roost will source a custom rechargeable lithium ion battery with a five-year life. It will be strategically smaller than today's 10-year versions that come in the form factor of a 9V alkaline battery and cost about $8. With the extra space Roost will pack in one or more merchant chips to provide WiFi, MCU, and sensor functions.
The startup is writing its own power management softare to get more than five years' life from the battery and alert the user at a reasonable hour when it needs to be recharged.
Alkaline batteries in today's smoke alarms are inadvertently designed to go off in the early morning hours. That's because the chemistry's does output voltage slowly trickles down and is dependent on temperature. So when the temperature is lowest in the home — typically between 2 and 4am it starts chirping.
Roost has prototype boards already up and running and plans to ship the first smart batteries in May. The U.S. alone has an estimated 350 million smoke alarms that are the startup's first targets.
If all goes well, Roost could carve out a pretty compelling position inside homes and retail outlets, not unlike the position that got Nest acquired for a whopping $3.2 billion by Google in January. But Peeters is well aware there's a long road between starting his Kickstarter campaign and a big acquisition offer.
"We've been around the block, and it always comes down to execution — mitigating the risks is what keeps me up at night," he said.
— Rick Merritt, Silicon Valley Bureau Chief, EE Times
---
---
Register to our newsletter